Episodes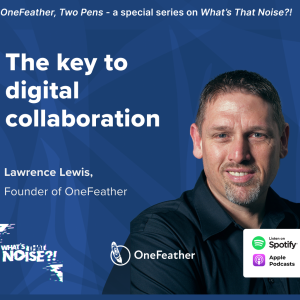 Wednesday Dec 14, 2022
Wednesday Dec 14, 2022
Once upon a time on What's That Noise?! we asked: wouldn't it be wonderful to launch a special series with their new friend and former guest, Lawrence Lewis? That time has arrived! Al, Tommy, and Lawrence are so very pleased to present One Feather Two Pens, a special series that interviews Indigenous thought and technology leaders about functioning and co-existing with Indigenous peoples in this digital space.
We kick off the series in episode 1 by laying the terrain for what this new series is about, what it's goals are, and what it hopes to contribute by means of creating a safe, inclusive dialogue for sharing the stories and lessons of Indigenous people across Canada who are carving out and navigating Indigenous digital sovereignty.
What does it mean for Canadians and Indigenous peoples to work together online? What values and principles should be prioritized? What does reconciliation mean and look like on the Internet? What does success look like here, exactly - and how will we even know that we've been successful? 
Stay tuned for more episodes, releasing on the 15th of every month!
Gila'kasla!
Follow us on Twitter: Wtncast
Follow your co-hosts: Tommy | Al | Lawrence
A very special thanks to Compulsion Soundlabs for sharing their musical talent, which you are hearing as the intro and outro music in this series!
Tommy and Al respectfully acknowledge that this show is recorded and produced on the traditional, unceded territories of the Anishinaabeg, Haudenosaunee, Chonnonton, and Lūnaapéewak peoples. London, Ontario, Canada is situated on their lands, a beautiful place that Tommy and Al are privileged to call home. Through this series, Tommy and Al aim to share their platform to create progressive, safe, and inclusive space to share the wisdoms, lessons, and experiences of Indigenous peoples from sea, to sea, to sea - in hopes of finding meaningful avenues to co-exist and function together online, in the spirit of love, courage, kindness, and reconciliation.